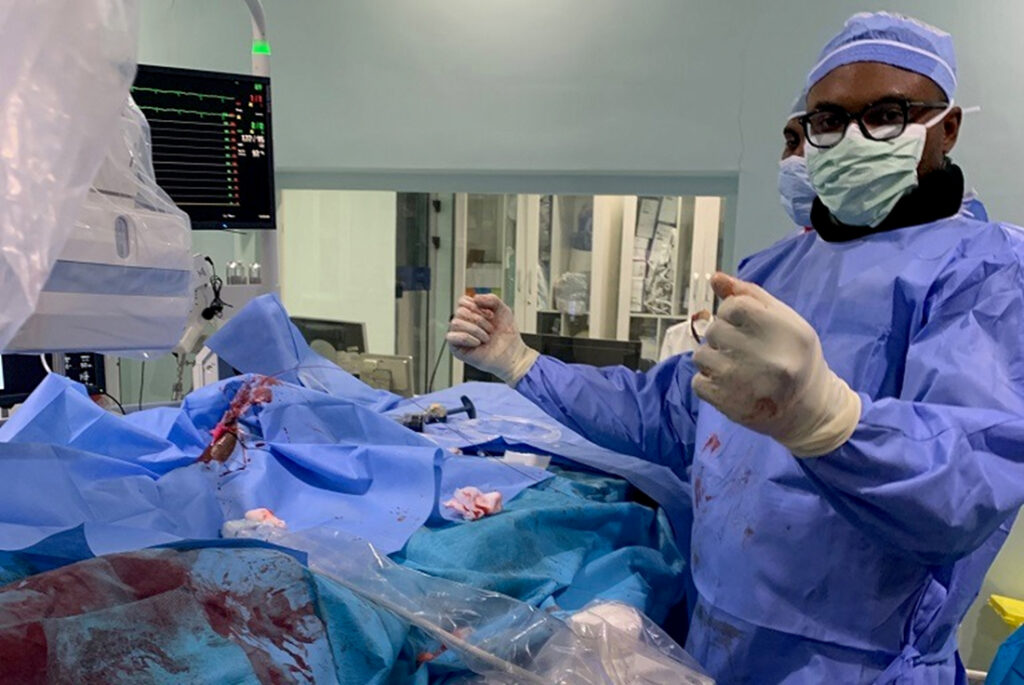 Interventional Radiology: The Future of Minimally Invasive Medical Treatment
Introduction Interventional Radiology (IR) is an advanced medical specialty that uses minimally invasive techniques and advanced medical imaging technology to diagnose and treat various health conditions.
This innovative medical treatment approach offers patients several key benefits, including reduced recovery time, decreased pain and risk, and more cost-efficient procedures.
With technological advancements continuing to drive the growth of interventional radiology, the future looks bright for this exciting and highly impactful medical specialty.
Interventional Radiologists (IR) – What They Do
Euracare is proud to have two of West Africa's leading experts in IR, Dr. Hammed Ninalowo and Dr. Benjamin Sarkodie, who are at the forefront of providing exceptional care to patients using this specialized treatment method.
Dr Hammed Ninalowo, is a US-trained Vascular and Interventional Radiologist who completed his training at the prestigious University of Pennsylvania and is the first US-trained Physician to offer the full spectrum of interventional Radiology services in Nigeria.
Dr. Benjamin Sarkodie is a fellow of the West African College of Surgeons and is Euracare Ghana's Medical Director and Head of Radiology. Dr. Benjamin was the first Interventional Radiologist in Ghana.
The minimally invasive nature of IR reduces recovery duration, pain, and medical risk to patients who typically require conventional "open surgery." With continuous technological advancement, the treatments IR can successfully perform are advancing and expanding.
Interventional Radiology is performed by an Interventional Radiologist, who uses medical imaging technology to guide a catheter or other small instruments through the body to the treatment area.
The Interventional Radiologist then performs the procedure while monitoring the real-time images of the treatment area, ensuring maximum precision and accuracy.
Procedures carried out by Interventional Radiologists
Interventional Radiologists perform a number of procedures. These including:
Blocked Fallopian tubes
Closed vessels
Malignant tumors: lungs and liver cancer
Fibroid embolization
Non-healing ulcers on diabetic patient's legs
Angiography
Angioplasty
Stenting
Thromboly
Embolization of GI bleeds
Ablation
Transjugular Intrahepatic Portosystemic Shunt- TIPS
Image-guided Biopsy
Venous Access
Gastrointestinal Interventions
Hepatobiliary Interventions
Gynaecologic Intervention
Genitourinary Interventions
Arterial and Venous Interventions
Dialysis Access Intervention
Musculoskeletal Interventions
Interventional Oncology
Pain Management
Lymphatic Interventions
Equipment used for interventional radiology procedures
Interventional Radiology procedures require advanced medical imaging technology and specialized equipment to ensure accuracy and precision. Some of the kits are:
X-ray machines
CT scanners
MRI machines
Ultrasound machines

These technologies and equipment allow Interventional Radiologists to perform complex procedures with optimal efficiency and minimal risk to the patient.
Overall Interventional Radiology is a cost-efficient and minimally invasive method of treating various health conditions. With advanced medical imaging technology and specialized equipment, Interventional Radiologists can provide patients with safe and effective treatments that minimize the risks associated with traditional open surgery. If you are suffering from any of the afore-mentioned conditions listed above, visit our website to book an appointment or get in touch with one of our IR specialists.
What can it treat
Interventional Radiology can treat:
Narrowing/expanding of arteries
Bleeding (haemorrhage)
Blood clots in the lung (pulmonary embolism, PE)
Dilated veins (varicose veins)
Non-healing ulcers on diabetic patient's legs
Blocked veins
Tumour therapies
Uterine fibroids
Kidney/gall stones

If you're suffering from any of these diseases or require an expert diagnosis, visit our website to book an appointment or get in touch with one of our IR specialists.
Dr Hammed Ninalowo (Euracare Nigeria): +234 700 3872 2273
Dr Benjamin Dabo Sarkodie (Euracare Ghana): +233 500 809 024
Frequently Asked Questions
1. Is Interventional Radiology safe?
Answer: Interventional Radiology is a minimally invasive procedure with a lower risk of complications than traditional surgery. With advanced medical imaging and equipment, IR has become a safe and effective treatment method.
2. Is Interventional Radiology painful?
Answer: Interventional Radiology is designed to cause minimal discomfort to the patient. Most IR procedures do not require general anesthesia or local anesthesia, instead mild sedation is used. This makes the procedure less painful and less stressful for the patient.
3. How long does an Interventional Radiology procedure take?
Answer: The length of an Interventional Radiology procedure depends on the complexity of the procedure. Most IR procedures are completed within a few hours, and the patient can go home the same day. This makes IR a convenient and efficient option for many patients.