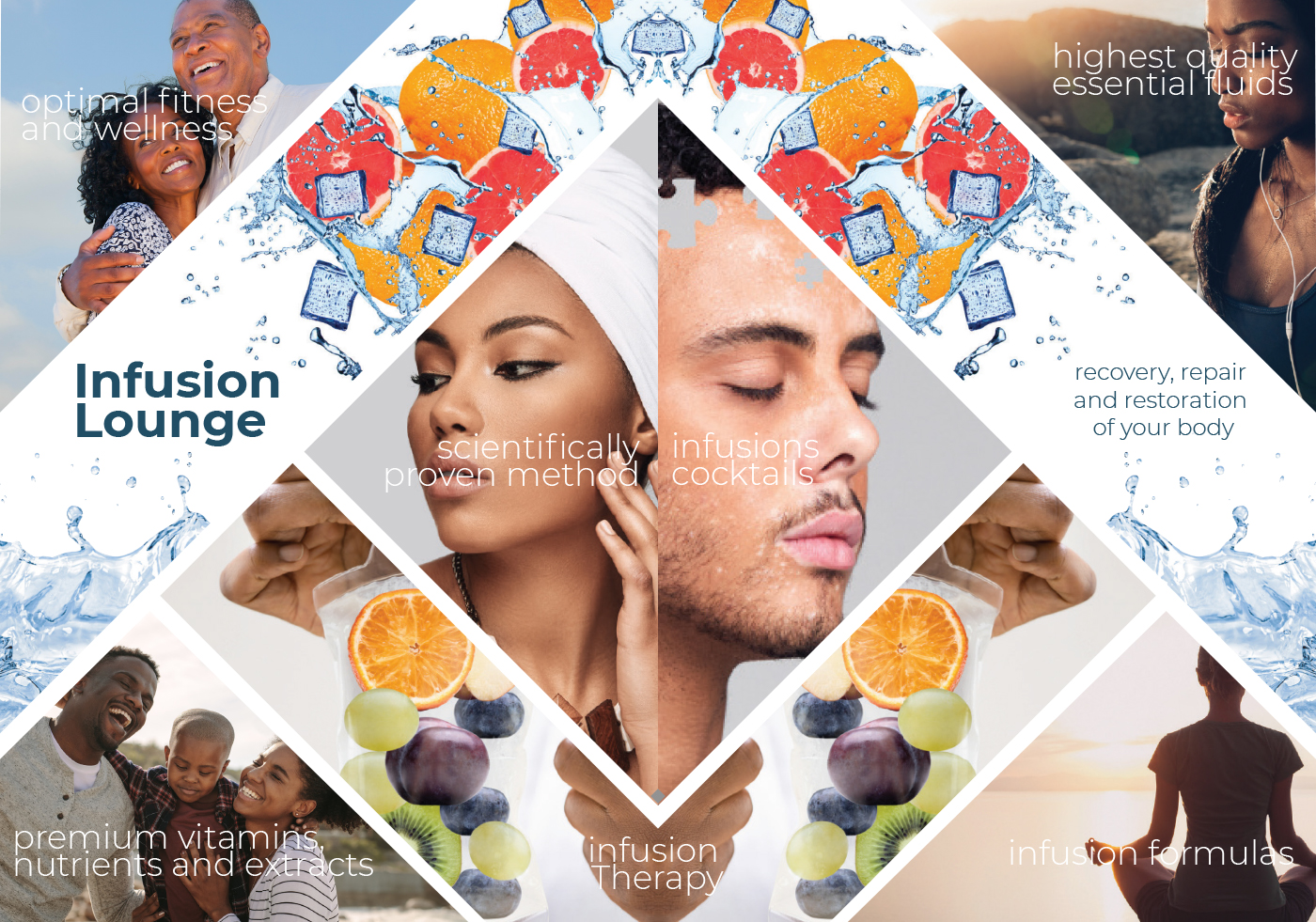 Infusion Therapy is a scientifically proven method of safely delivering medical-grade tonics and medicines to the body in the quickest way. Infusions are sterile and minimally invasive, yet provide the therapy to accelerate recovery, repair and restoration of your body.
Our infusion formulas contain a combination of premium vitamins, nutrients and extracts designed to rapidly treat specific conditions or meet your personal wellness targets. Our blends or 'infusions' contain the highest quality essential fluids, electrolytes and antioxidants, each scientifically formulated to get you to the peak of optimal fitness and wellness.
Although specific formulas vary, all our infusions have two basic components:
SALINE SOLUTION: A premium-grade sterile mixture of sodium chloride and water that hydrates your body and facilitates the delivery of medication and vitamins into your system.
ORGANIC NUTRIENTS: All our vitamins and antioxidants are extracted from the purest sources. These aides help the body maintain optimal function. While it is true that essential nutrients can be derived from the foods we consume, the reality is that the correct doses and dietary diversity are not always achievable in our daily schedules. Our infusions offer convenience and high quality assurance that only a reputable health care facility can offer.
INFUSION THERAPY IS MORE EFFICACIOUS THAN ORAL DOSING
Oral supplements and medications have lower bioavailability than IV drips because they must first pass through your digestive system, where they are metabolized before reaching your circulation. In addition to this, age, activity level, illness, malabsorption issues, stress, and previous gastrointestinal surgery can also negatively influence how well your body can absorb supplements and medications. The ingredients in infusions are 100% absorbed by your body because they are administered directly into your bloodstream. Since IV therapies are delivered into your bloodstream, the ingredients become immediately available to your cells, greatly decreasing the time it takes for a medication or supplement to take effect. This is to say, your body uses the maximum amount of what it needs and discards the rest through its normal excretory functions.
INFUSION THERAPY RESULTS IN:
Increased Energy
Strengthened Immunity
Cleansing and Detoxing
Rapid Rehydration
100% Vitamin Absorption
Lowered Anxiety
Decreased Fatigue
Relief from Allergies
Improved Quality of Sleep
Mental clarity and vitality
Faster Recovery from exertion like exercise, and more.
HOW SAFE IS INFUSION THERAPY?
Infusion Therapy has been used to improve patient health since the mid-1800s. In the 21st century, technology and research has revolutionised our strides into minimally invasive procedures for the purposes of therapeutic intervention. Infusion Therapy is a very safe option and is generally well-tolerated by most patients. There are only rare cases of patients experiencing side effects, like infection at the injection site, which is why IV therapies are administered by healthcare professionals in a facility that is capable of intervening should you experience adverse effects.
We pride ourselves in maintaining a state-of-the-art facility and best practice procedures in line with international health care regulations. We are committed to providing you with an essential service and leaving you with a positive Infusion Therapy experience.

KNOW YOUR INFUSIONS
Download Know Your Infusions
INFUSIONS MENU:
Beauty Boost Infusion
Dehydration Recovery Infusion
Detox Infusion
Energy Boost Infusion
Hangover Recovery Infusions
Migraine Therapy Infusion
Myer's Infusion
Pregnancy And Morning Sickness Infusion
Recovery Boost Infusion
Stress And Anxiety Infusion
Immune Boost Infusion
 











Our Mission is Health, Our Specialty is You!