Oncology is a branch of medical science dealing with tumours, including the origin, development, diagnosis, and treatment of malignant neoplasms. Different types of doctors often work together to create a patient's overall treatment plan that combines different types of treatments. Euracare provides Surgical Oncology services and cancer treatment using cutting-edge Interventional Radiology modalities. Interventional radiology may also be used to manage metastatic disease from a variety of cancers including those of the breast, colon, rectum, gallbladder, pancreas, lung, oesophagus and stomach, as well as melanoma and sarcoma. Interventional radiologists are specialists trained in using image-guided technology, such as X-rays, CT and MRI. 
At Euracare, cancer diagnostic and treatment procedures are performed using minimally invasive techniques. The benefits of minimally invasive surgery over "traditional", open surgery are many and significant:
Small incisions, few incisions, or no incision
Less pain
Low risk of infection
Short hospital stays
Quick recovery time
Less scarring
Reduced blood loss
Euracare provides management and services for many types of oncological conditions, including but not limited to those listed below.
Conditions and Procedures
Conditions and Procedures
Transarterial chemoembolization
Radiofrequency ablation (RFA)
Microwave ablation
Tumour ablation procedures
Liver-directed therapies
Vascular work
Drainage catheters
Port and PICC Line Placement
Pain management
Lymphatic Interventions
Tests and Diagnostics
Biopsy
MRI
CT
X-ray
Clinical Laboratory
Ultrasound
Bronchoscopy
Endoscopic procedures
Lumbar puncture
Pap smear
Physical examination







FREE BREAST SCREENING TO 266 PATIENTS
Euracare Advanced Diagnostics & Heart Center proudly partnered with Maud Lokko Breast Cancer Foundation at Lekam Hospital on 14th Feb, offering free breast screening to 266 patients onsite. 35 suspected cases have been referred to Euracare in order to undergo further mammography and/or USG.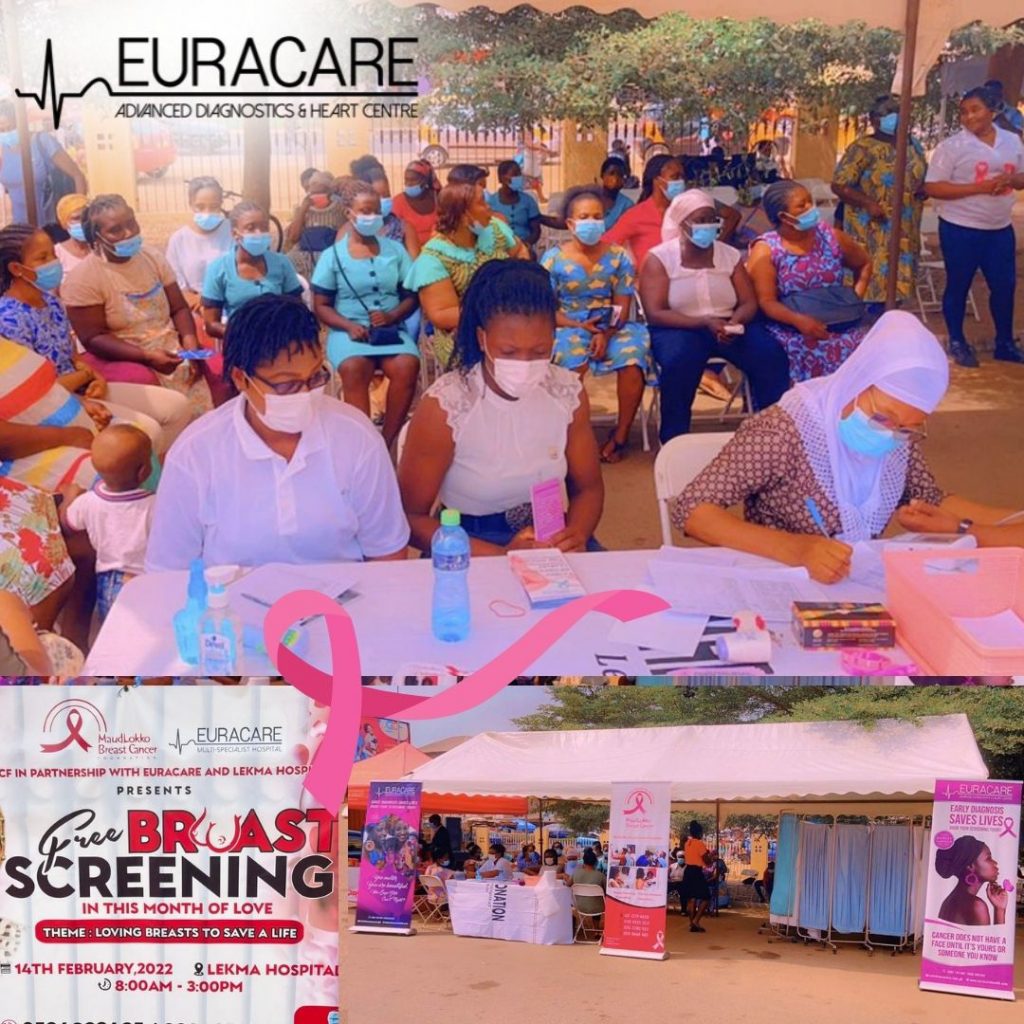 World Cancer Day is commemorated every year on February 4 to raise awareness, inspire change, and minimise cancer's global effect. The primary goal of this day is to minimise cancer-related myths and prejudices, as well as to assist people in receiving accurate information about the disease. The global cancer epidemic is huge and is set to rise. Currently, 8.2 million people die from cancer worldwide every year, out of which 4 million are premature deaths (aged 30 to 69 years).
What Is Interventional Radiology?
Dr Hammed Ninalowo is talking about the application of Interventional Radiology in every aspect of modern medicine. Dr Hammed Ninalowo, is a US-trained Vascular and Interventional Radiologist practicing at Euracare Multi-Specialist Hospital Nigeria.Click here to view article.
Our Mission is Health, Our Specialty is You!