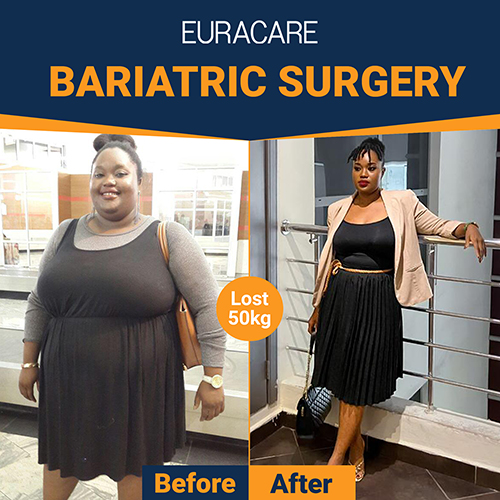 Euracare Monthly Digest
| | | |
| --- | --- | --- |
| Welcome to the latest edition of our newsletter. We are excited to share the latest activities at Euracare. Discover our upcoming events, top tips and advice, and range of health news and articles. We aim to keep you informed and empowered to make the best health and well-being decisions. |   | Bienvenue dans la dernière édition de notre newsletter. Nous sommes ravis de partager les dernières activités d'Euracare. Découvrez nos événements à venir, nos meilleurs conseils et astuces, ainsi que notre gamme d'actualités et d'articles sur la santé. Notre objectif est de vous tenir informé et habilité à prendre les meilleures décisions en matière de santé et de bien-être |
March Highlights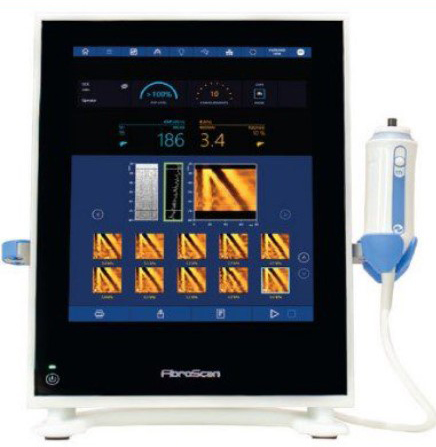 Launch of a unique ultrasound service at Euracare Ghana: Fibroscan

We offer affordable and accessible Fibroscan services to Ghanaians, making us the first centre in the country to offer this screening.

Fibroscan is a cutting-edge technology for detecting liver diseases, providing patients with uncomplicated, painless, and reliable results.

Say goodbye to painful and expensive liver biopsies with our Fibroscan services.

 

Lancement d'un service d'échographie unique à Euracare Ghana : Fibroscan

Nous proposons des services Fibroscan abordables et accessibles aux Ghanéens, ce qui fait de nous le premier centre du pays à proposer ce dépistage.

Fibroscan est une technologie de pointe pour détecter les maladies du foie, offrant aux patients des résultats simples, indolores et fiables.

Dites adieu aux biopsies hépatiques douloureuses et coûteuses grâce à nos services Fibroscan.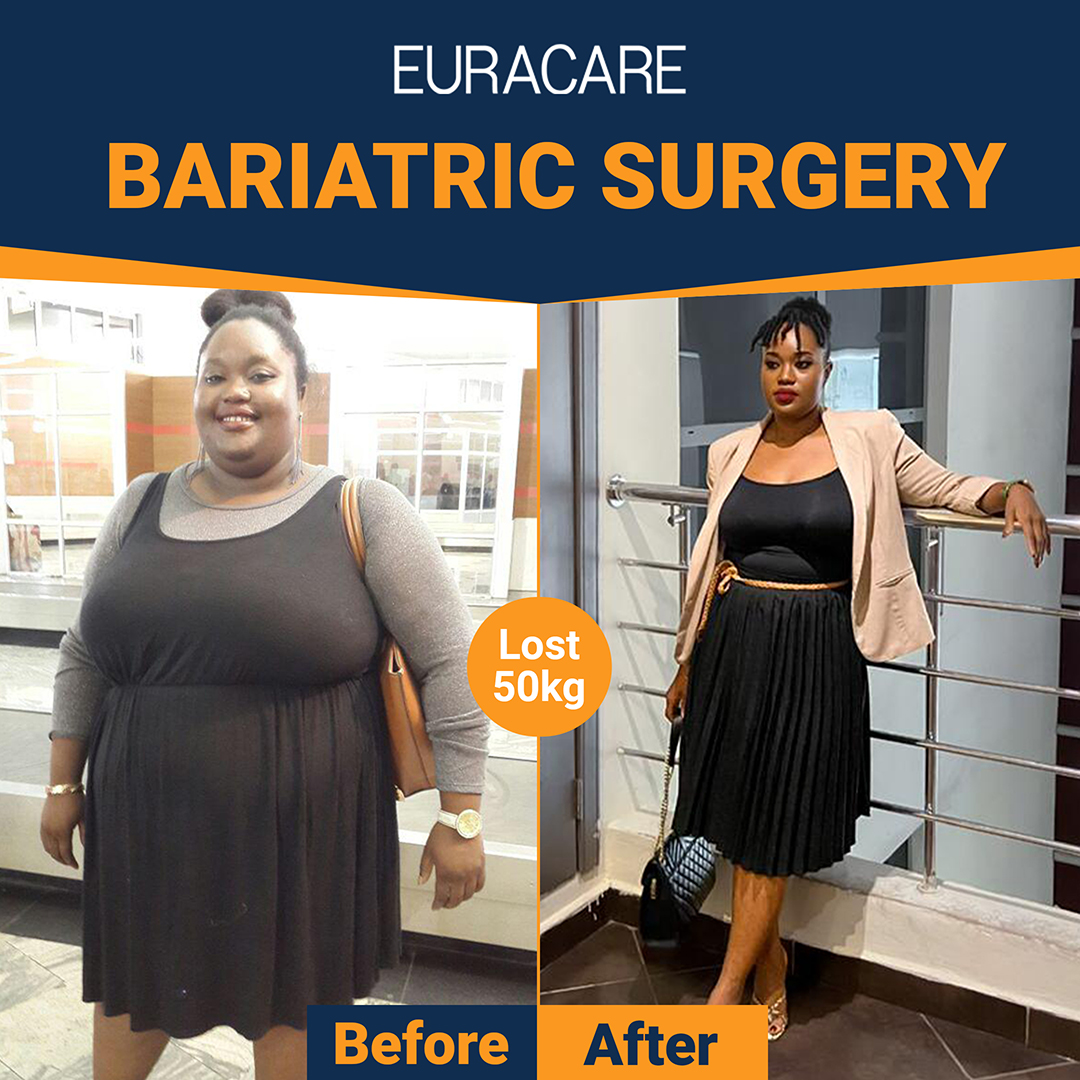 Insightful Webinar on Bariatric Surgery

On 15 March 2023, we hosted an informative webinar on Bariatric surgery featuring our renowned Gastro-Intestinal and Bariatric Surgeon, Dr. Okaro, and our Clinical Nutritionist, Mrs. Sherese Ijewere. Dr. Okaro has extensive experience in performing countless successful bariatric surgery procedures.

Additionally, we are proud to feature powerful testimonials from five of our patients who achieved life-changing results through gastric sleeve surgery and diet therapies.

Their stories are a testament to the power of teamwork and the transformative impact of bariatric surgery.

Watch one of these stories HERE

 

Webinaire sur la chirurgie bariatrique

Le 15 mars dernier, nous avons organisé un webinaire éducatif sur la chirurgie bariatrique mettant en vedette notre chirurgien gastro-intestinal et bariatrique, le Dr Okaro, et notre nutritionniste clinique, Mme Sherese Ijewere. Le Dr Okaro possède une vaste expérience dans la réalisation d'innombrables procédures de chirurgie bariatrique réussies. De plus, cinq de nos patients ont partagé leur expérience sur les résultats qui ont changé leur vie. *Regardez l'enregistrement ici.

Vous pouvez également découvrir l'histoire d'une de nos patientes, avec les résultats du travail d'équipe et l'impact transformateur de la chirurgie bariatrique.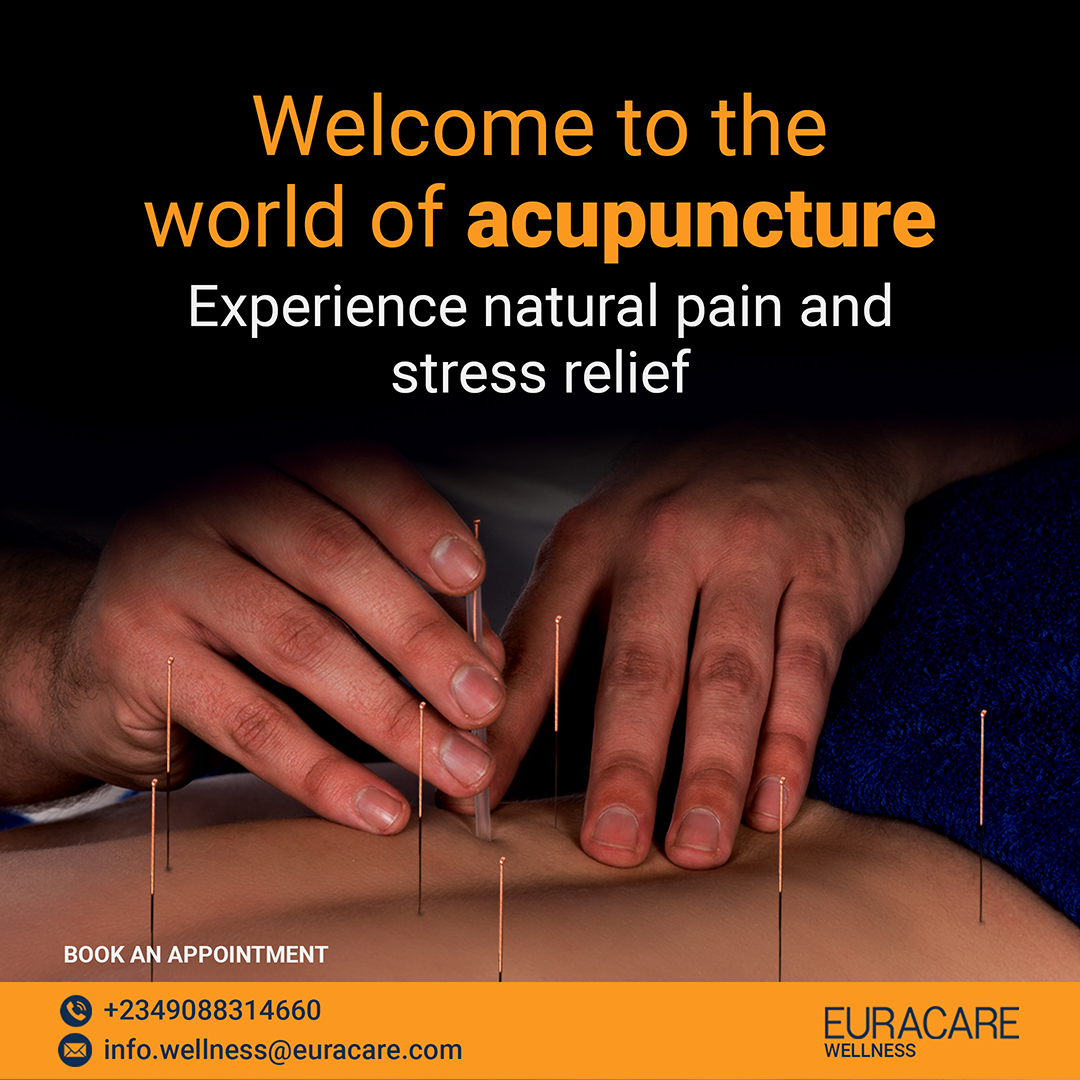 Launch of Acupuncture services at Euracare Nigeria

Euracare Wellness Centre now offers acupuncture services to treat various ailments naturally.
Acupuncture helps improve mood, sleep, mental health, physical well-being, and immunity. Our highly skilled acupuncturists can identify the root cause of your symptoms and develop a customized treatment plan tailored to your specific needs.

 

Lancement des services d'acupuncture à Euracare Nigeria

Euracare Wellness Centre propose désormais des services d'acupuncture pour traiter naturellement divers maux. L'acupuncture aide à améliorer l'humeur, le sommeil, la santé mentale, le bien-être physique et l'immunité. Nos acupuncteurs hautement qualifiés peuvent identifier la cause profonde de vos symptômes et élaborer un plan de traitement personnalisé adapté à vos besoins spécifiques.
Healthy Lifestyle Tips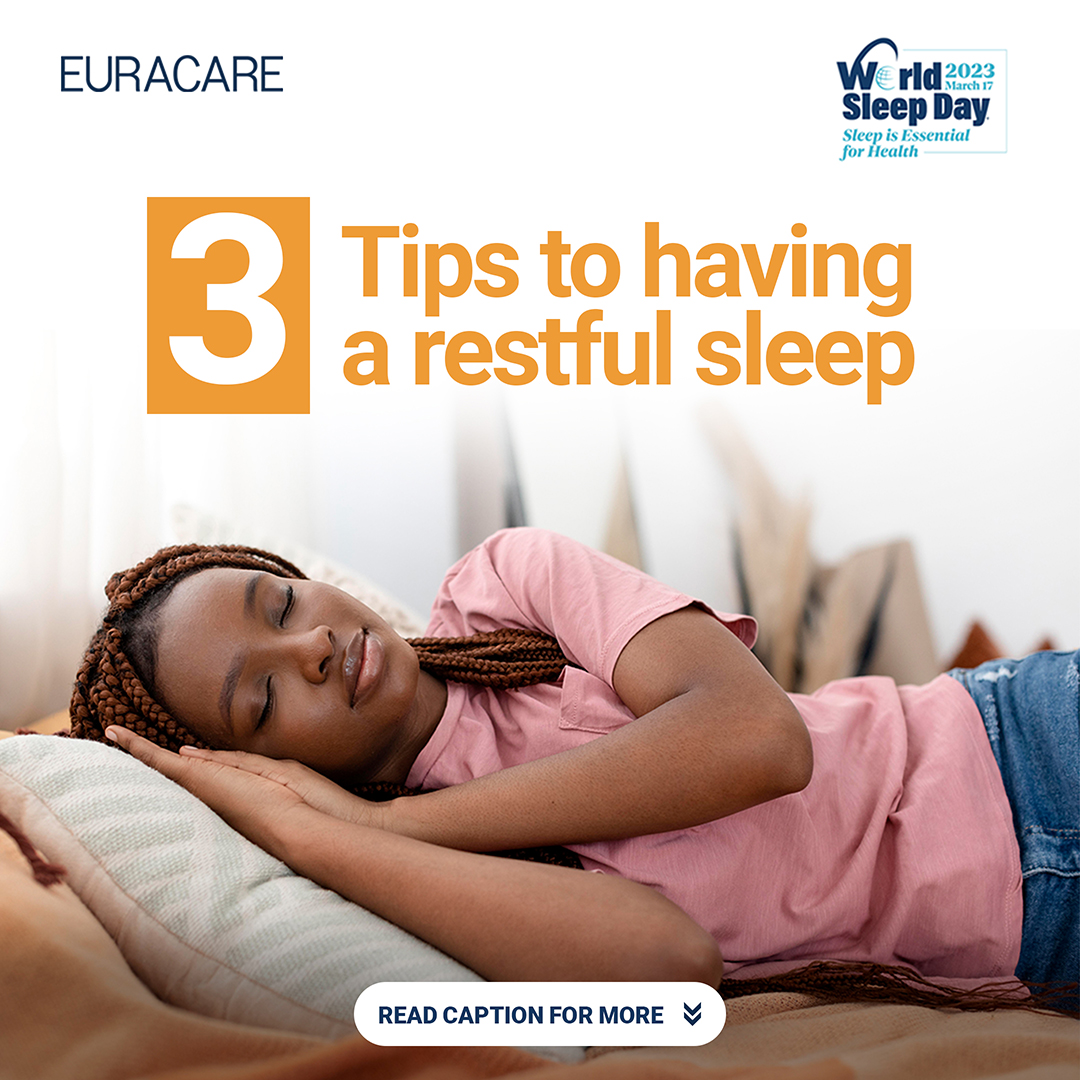 3 tips for having a restful sleep

It is important to remember the crucial role that proper sleep plays in our everyday life.
Good sleep habits such as practicing a digital detox before bedtime, creating a comfortable sleep environment, and adopting healthy habits like avoiding caffeine and alcohol before bedtime can help promote better sleep and overall well-being.

 

3 conseils pour avoir un sommeil réparateur

Il est important de se rappeler le rôle crucial que joue un bon sommeil dans notre vie quotidienne. De bonnes habitudes de sommeil telles que la pratique d'une désintoxication numérique avant le coucher, la création d'un environnement de sommeil confortable et l'adoption d'habitudes saines comme éviter la caféine et l'alcool avant le coucher peuvent aider à favoriser un meilleur sommeil et un bien-être général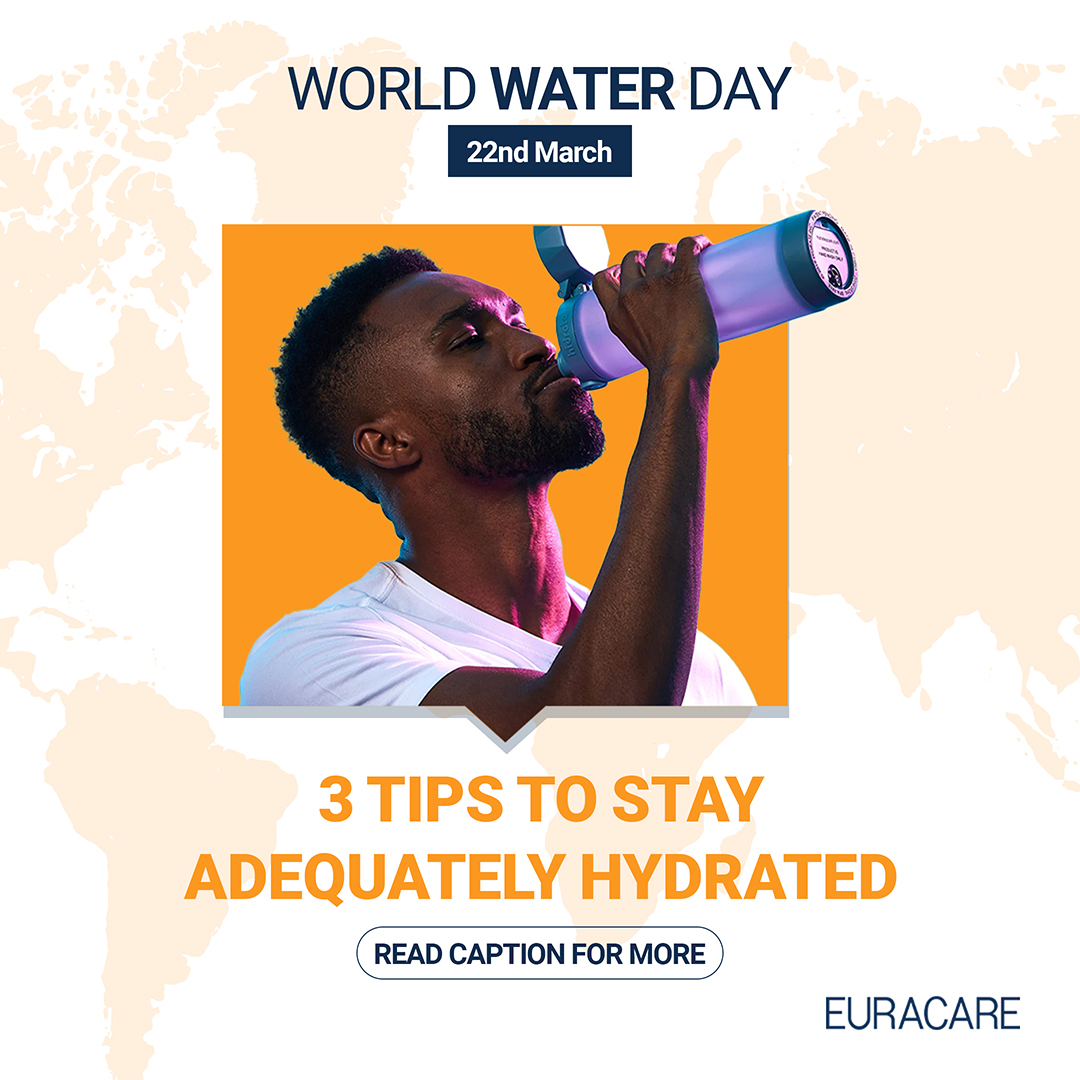 3 Tips to stay adequately hydrated

Our body is composed of about 60% water, so staying hydrated is essential. Drinking plenty of water throughout the day. Drinking enough has been proven to regulate appetite and support weight loss, improve mood and reduce anxiety, remove toxins, and improve skin appearance.

 

3 conseils pour bien s'hydrater

Notre corps est composé d'environ 60% d'eau, il est donc essentiel de rester hydraté. Boire beaucoup d'eau tout au long de la journée. Il a été prouvé que boire suffisamment régule l'appétit et favorise la perte de poids, améliore l'humeur et réduit l'anxiété, élimine les toxines et améliore l'apparence de la peau.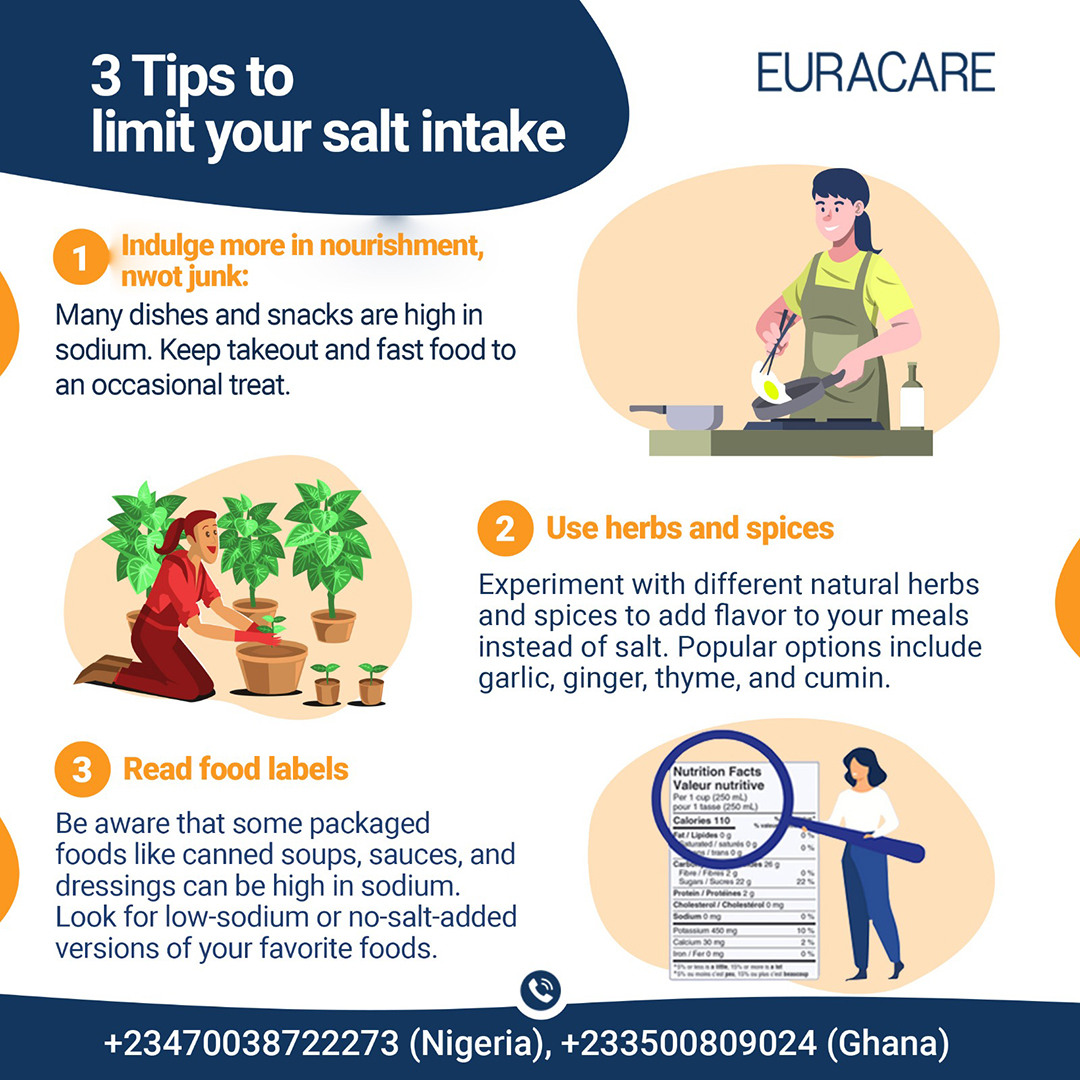 Heart Health – limit salt intake

Are you looking to improve your heart health? Start by cutting down on high-sodium snacks and dishes. Instead, incorporate natural herbs and spices like garlic, ginger, thyme, and cumin into your meals. No worries, you don't have to give up your favourite foods completely, have low-salt or no-salt-added meals instead.

 

Santé cardiaque – limiter la consommation de sel

Vous cherchez à améliorer votre santé cardiaque? Commencez par réduire les collations et les plats riches en sodium. Au lieu de cela, incorporez des herbes et des épices naturelles comme l'ail, le gingembre, le thym et le cumin dans vos repas. Pas de soucis, vous n'avez pas à abandonner complètement vos aliments préférés, optez plutôt pour des repas à faible teneur en sel ou sans sel ajouté.
Upcoming Events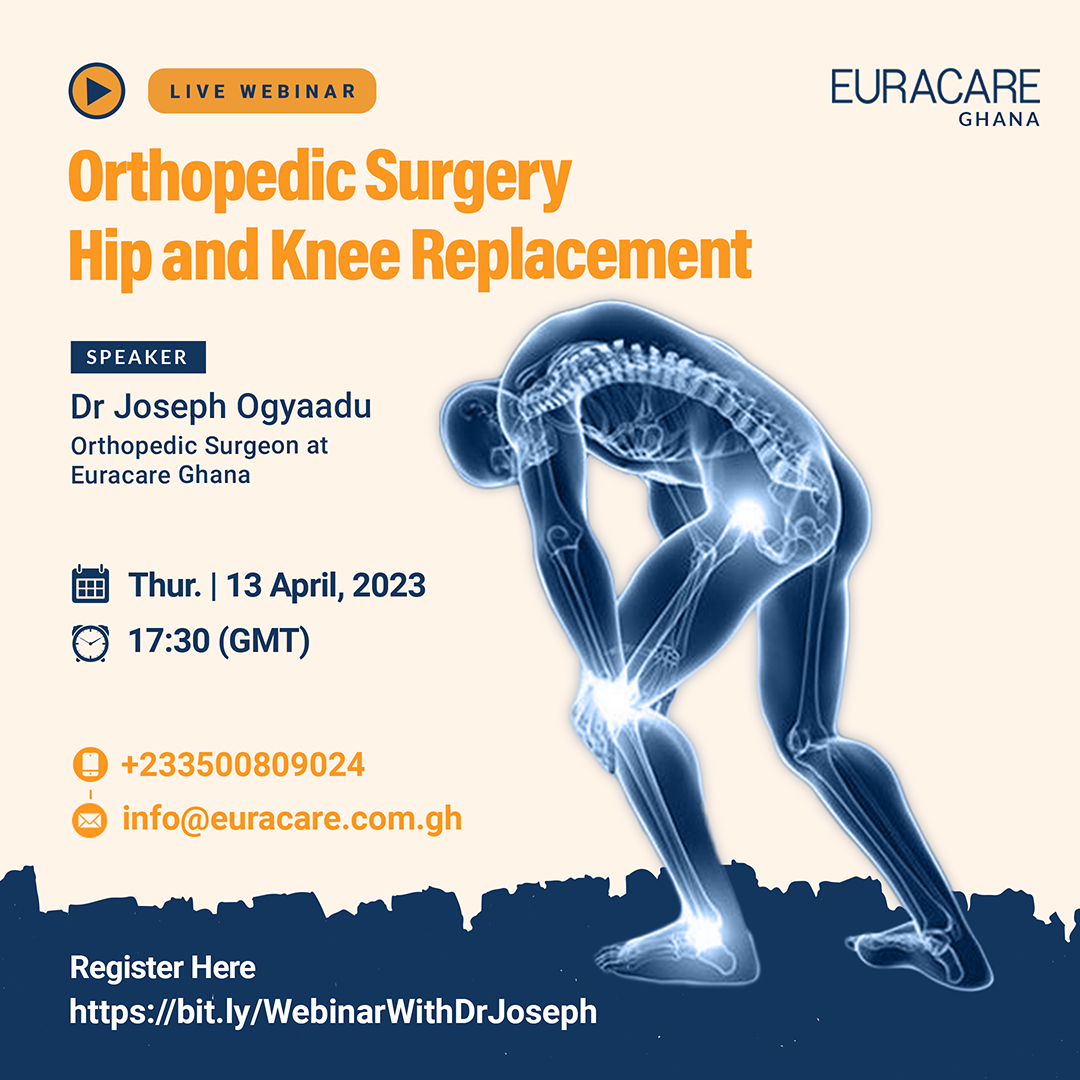 Orthopedic Webinar – Hip and Knee Replacement Surgeries

Dr. Joseph Ogyaadu, Orthopedic Surgeon at Euracare Ghana, will be hosting a webinar on hip and knee replacement surgeries on April 13th at 17:30 (GMT). He will cover the latest advancements in surgical techniques, equipment, benefits, and patient preparation and recovery phase.

 

Le Dr Joseph Ogyaadu, chirurgien orthopédiste chez Euracare Ghana, animera un webinaire sur les chirurgies de remplacement de la hanche et du genou le 13 avril à 17h30 (GMT). Il couvrira les dernières avancées dans les techniques chirurgicales, l'équipement, les avantages et la phase de préparation et de récupération du patient.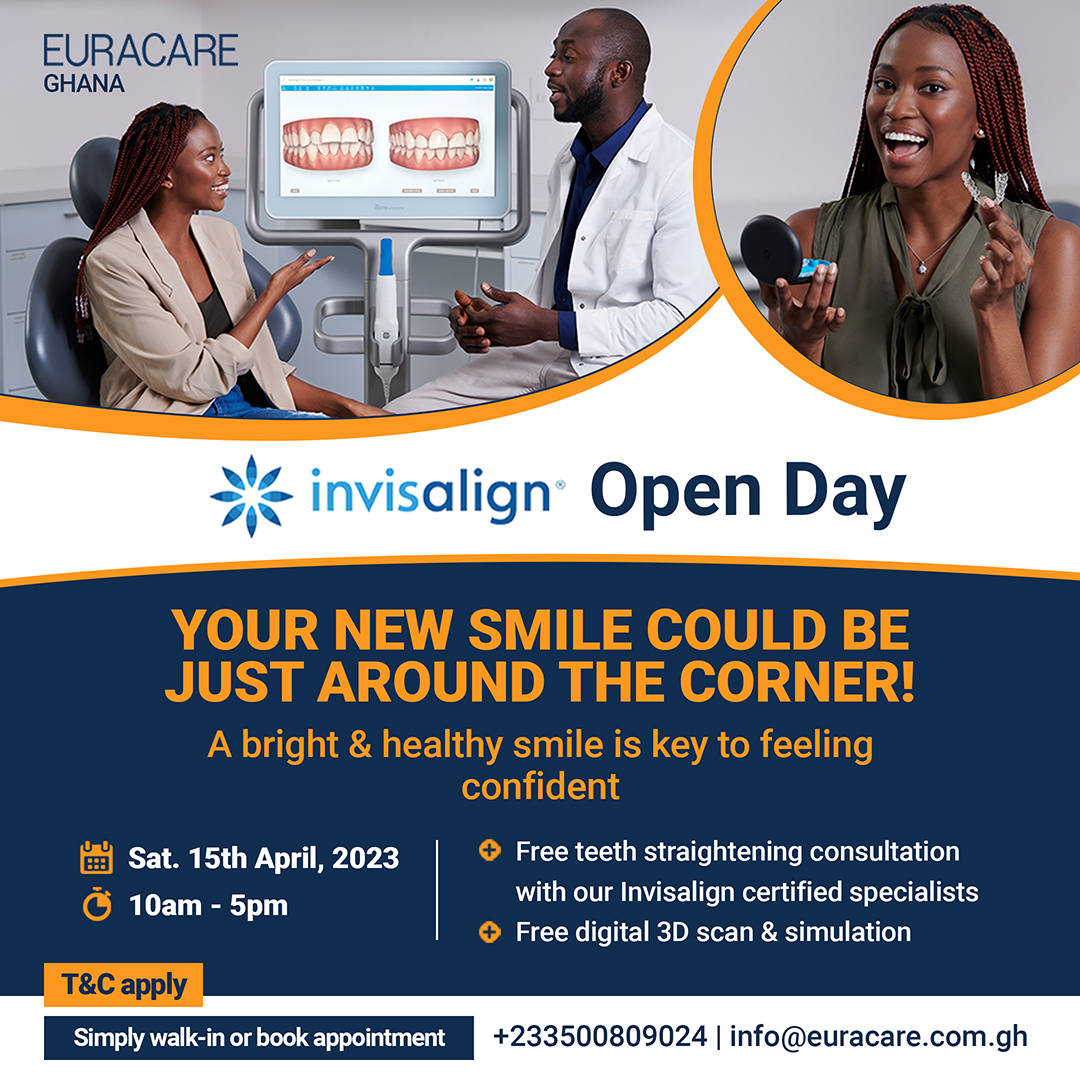 Invisalign Open Day

Euracare Ghana is hosting an Open Day for Invisalign dental services. We are offering a free teeth straightening consultation with our Invisalign certified specialists and a free digital 3D scan & simulation on Saturday 15th April 2023, from 10AM – 5PM. Simply walk in or book your appointment.
Visit Euracare Ghana for a unique dental simulation with our Invisalign specialists: your beautiful smile is around the corner.

 

Journée portes ouvertes Invisalign

Euracare Ghana organise une journée portes ouvertes pour les services dentaires Invisalign. Nous proposons une consultation gratuite de redressement des dents avec nos spécialistes certifiés Invisalign et un scan et une simulation 3D numériques gratuits le samedi 15 avril 2023, de 10h à 17h. Entrez simplement ou prenez rendez-vous. Visitez Euracare Ghana pour une simulation dentaire unique avec nos spécialistes Invisalign : votre beau sourire est au coin de la rue.