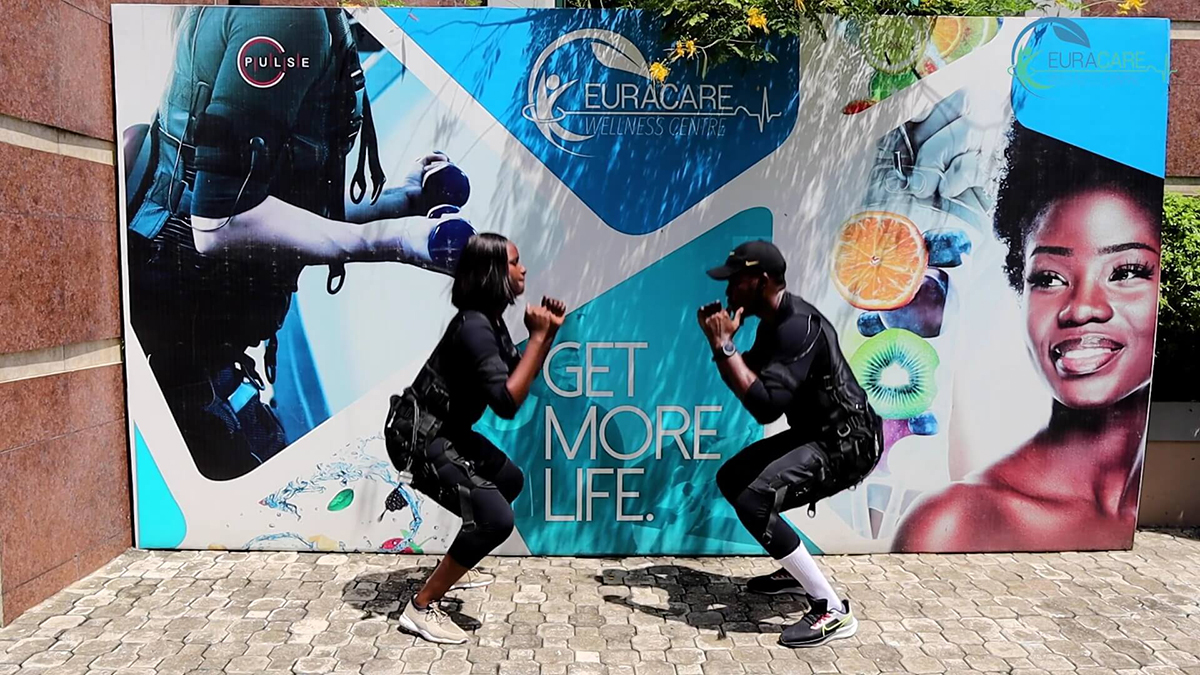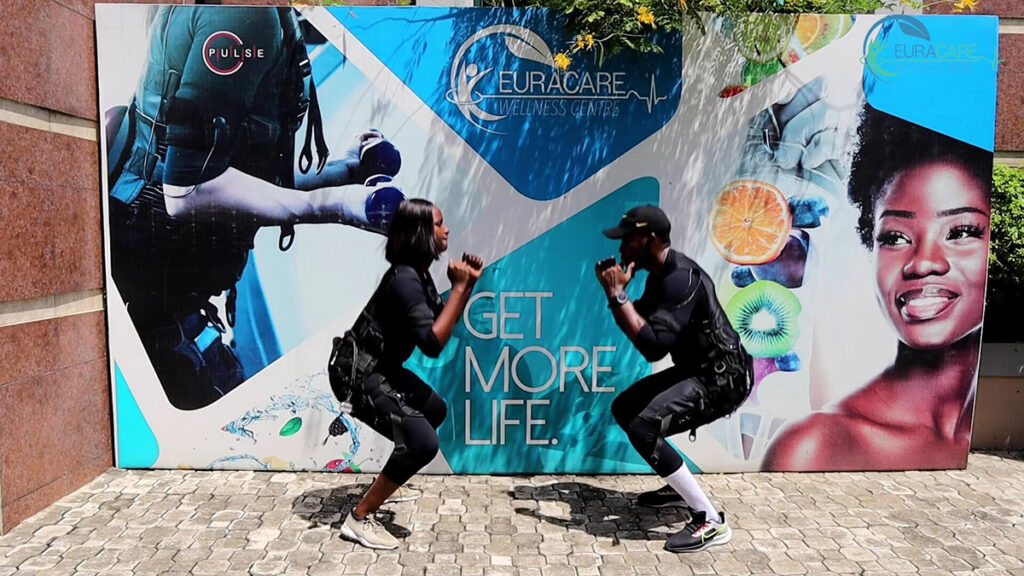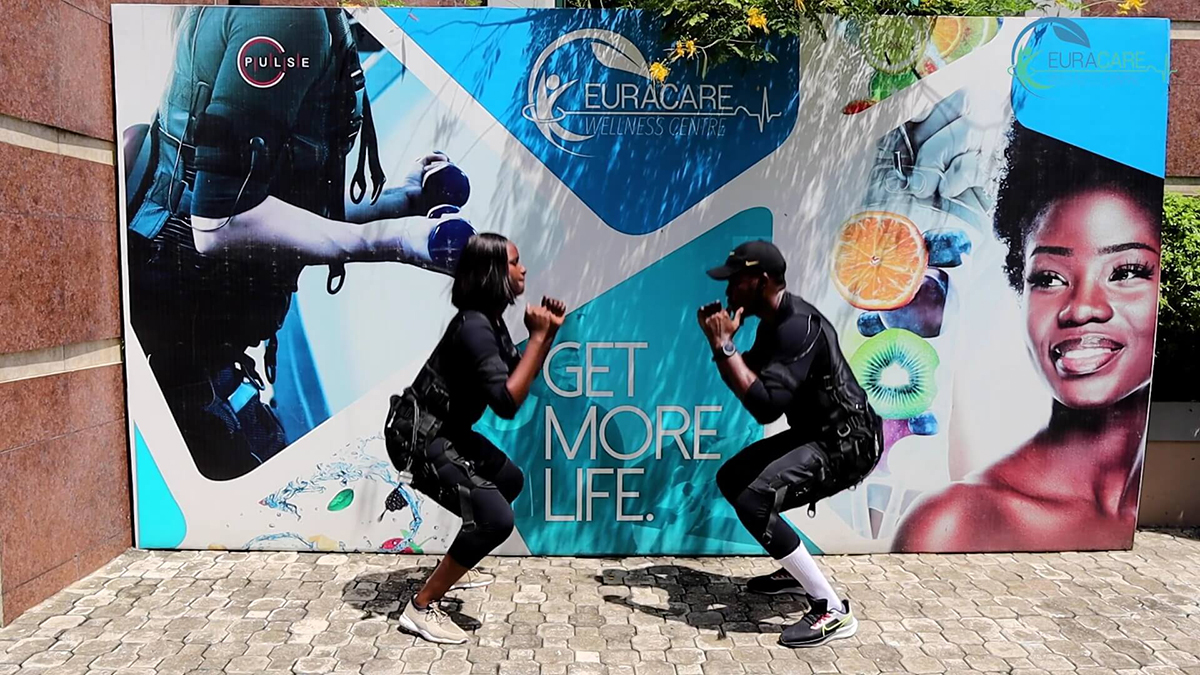 Euracare Wellness Center is a wellness facility in Nigeria offering comprehensive services to improve human health.
Whether you're aiming to build lean muscle, lose fat, or simply boost your energy levels and overall wellness, Euracare Wellness Center offers a comprehensive, cutting-edge solution, combining EMS training and Infusion Therapy, making it a revolutionary hub for fitness and health.
Electro Muscular Stimulation (EMS) Studio at Euracare Wellness Centre
EMS, a full-body training regimen using impulse currents, mimics the natural electrical impulses our central nervous system sends to control our muscles. This technology targets deep muscle layers that conventional training struggles to reach, by applying EMS electrodes directly above the muscle.
A 20-minute EMS session at Euracare equals the benefits of a 4-6 hour conventional workout!
A distinctive feature of the EMS technology is its wireless capability which is paired with the BIA Mobile App, and  allows clients to track their results anywhere, anytime


Imagine the satisfaction of experiencing rapid fat loss, improved posture, muscle build, and enhanced strength after each session. With EMS, you can enjoy immediate cellulite reduction and relief from back pain.
Infusion Lounge: A New Era of Wellness
Euracare Wellness Center's Infusion Lounge offers Intravenous (IV) Therapy, a scientifically proven method of safely delivering medical-grade tonics and medicines to your body efficiently.
From the Beauty Boost IV Cocktail to the Immune Boost IV Cocktail, each formula contains a combination of premium vitamins, nutrients, and extracts designed to treat specific conditions and meet personal wellness goals.
What are IV Cocktails?
IV cocktails are a game-changer, outperforming oral supplements with their 100% bioavailability and immediate effect. They are designed with the highest quality extracts of vitamins, minerals, antioxidants, and nutrients. Each formula is scientifically crafted to provide optimal benefits, minimally invasive, and yet intensively beneficial to the body, mind, and soul.
One standout ingredient in our IV cocktails is the Vitamin B complex. These serve as cellular building blocks, essential for mood stability and energy levels.
Similarly, vitamins D and C play crucial roles. Vitamin D, primarily produced when our skin is exposed to sunlight, influences everything from mood and anxiety symptoms to the risk of heart disease and type 2 diabetes.
Vitamin C, on the other hand, is a potent antioxidant. It's essential for healthy bones, teeth, connective tissue, muscles, skin, and capillaries, while also protecting against cell damage from free radicals.
We also have cocktails containing Magnesium, Zinc, Calcium, and Glutathione. These nutrients collectively improve brain function and mood, reduce inflammation, boost immune health, strengthen the nervous system and bones, and fortify the body's immune system at a cellular level.
The Euracare Advantage
At Euracare Wellness Centre, you gain access to two revolutionary methods designed to supercharge your health and wellness journey. By combining EMS training with IV Therapy, we deliver a comprehensive solution to fitness and wellness.
Euracare's commitment to using the most accurate and advanced devices ensures your EMS training and IV Therapy are effective and safe.
With continuous monitoring and the provision of precise results, Euracare maintains accountability, meeting and often exceeding every client's expectations.
So, are you ready to take the leap into the future of fitness and wellness? Euracare Wellness Centre awaits, ready to guide you on a journey that promises not only a healthier body but also a healthier lifestyle.
Contact us today!
Phone: +2349088314660
Email: info.wellness@euracare.com.ng